Press Room
All members of the press are invited to contact Shirley Reul, Director of Marketing & Events at ShirleyReul@bgcirc.org or by calling (772) 299-7449.
Please clear all stories in advance of print. We appreciate your cooperation.
Please enjoy some recent articles highlighting the work of the Boys & Girls Clubs of Indian River County.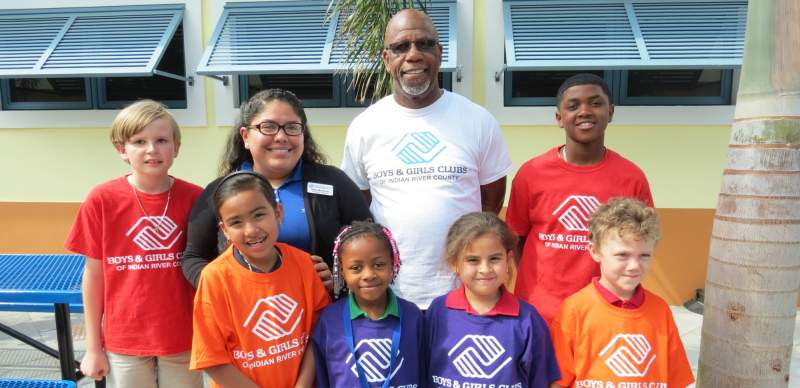 Press Releases & Published Articles
2021
BGCIRC Foundation Board Treasurer, Bill Munn, Among Honored Leaders Celebrated During Annual National Philanthropy Day Celebration - November 4, 2021
Boys & Girls Clubs of Indian River County Welcome New Staff Professionals - May 27, 2021
Boys & Girls Clubs of Indian River County Youth of the Year Winners Speak at Sebastian River Area Chamber of Commerce Networking Luncheon - April 13, 2021
Treasure Coast Food Bank Unveils Market Fresh 'On The Move' Food Truck at the Boys & Girls Clubs of IRC - March 17, 2021
Boys & Girls Clubs of IRC Has Online National Fine Arts Contest for Club Artists, March 2021
32963 - Volume 14, Issue 06: Leaders Lauded at Boys & Girls Youth of the Year Event - 32963 - February 11, 2021
Realtors Association of Indian River County Donate New School Uniforms to Boys & Girls Clubs of IRC, February 2021
2019-2020
Boys & Girls Clubs of IRC Member Gets CNA Certification, December 2020
Welcome to the Club: The Fellsmere Boys & Girls Club is Getting a New Clubhouse, August 2019
H.A.L.O. No-Kill Rescue offers Boys & Girls Club member valuable learning experience, July 2019
Indian River Community Foundation awards $50,000 for new Boys & Girls Club in Fellsmere, May 2019
Indian River Boys & Girls Clubs unearth new opportunities for children in Fellsmere, April 2019
Indian River County Boys & Girls Clubs' Angels Dinner makes 300 children happy campers this summer, March 2019
April 5 bridge tournament to support Boys & Girls Clubs of Indian River County, March 2019
Indian River Impact 100 picks 2019 grant finalists: Boys & Girls Clubs, H.A.L.O. No-Kill Rescue, Space Coast Symphony, March 2019
Vero Beach High School freshman named 2019 Youth of Year by Boys & Girls Clubs of Indian River County, February 2019
Boys & Girls Club to get new building in Fellsmere after Vero Beach volunteers pledge $1M toward construction, January 2019
2018
Middle School Girls with Indian River County Boys & Girls Clubs Mentored in Marine, Soundscape Ecology and Technology, July 2
2018
Vero Beach Easter Parade Raises Money for Boys & Girls Clubs, April 2018
Boys & Girls Clubs Welcomes $3,500 Donation from Vero Vino Wine & Food Festival, March 2018
Angels Dinner Helps Children from Boys & Girls Clubs of Indian River County Soar During Summer, March 2018
Float Hope Invitational Attracts 70 Swimmers, February 2018
Valentine's Day Uniform Drive a Success, February 2018
Destiny named Boys & Girls Club Youth of the Year, Februrary 2018
2017
200-Plus Golfers Tee Up for Boys & Girls Clubs of Indian River County, December 2017
Club Members host forum with law enforcement, June 2017
Vero Club welcomes new staff, May 2017
Club soccer team wins title, May 2017
Angels Dinner is sweet success, March 2017
NFL wide receiver visits Vero Club, February 2017
Raliyah Dawson, Southeastern Youth of the Year winner, recognized by commission, July 2016
2016
Raliyah Dawson wins State Youth of the Year, May 2016
Jake Owen Supports the Boys & Girls Clubs, May 2016
New Expansion Sparkles , April 2016
Vero Beach Club Expansion Complete , April 2016
Generous grant and bequest launch career planning program for teens, April 2016
2015
Boys & Girls Club benefits from Hope Thrift Store, December 2015
Clubs partner on anti-bullying summit with local agencies, October 2015
Jake Owen Performing Arts Center Launches at Vero Beach Club, October 2015
County superintendent of schools supportive of Club and community , June 2015
Out with the Old; In with the New. Demolition begins for Club expansion , May 2015
Capital Campaign Goal met for Vero Beach Club Expansion, April 2015